CLICK ON LOGO FOR INDEX PAGE
PHSA EVENTS
************************************
PLACERVILLE (HANGTOWN) CA.
Prior to the discovery of gold in nearby Coloma, California by James W. Marshall in 1848 sparking the California Gold Rush, the small town now known as Placerville was known as Dry Diggin's after the manner in which the miners moved cartloads of dry soil to running water to separate the gold from the soil. Later in 1849, the town earned its most common historical name, "Hangtown", due to the numerous hangings that had taken place there. By 1850, the temperance league and a few local churches had begun to request that a friendlier name be bestowed upon the town. The name was not changed until 1854 when the City of Placerville was incorporated. At its incorporation Placerville was the third largest town in California. In 1857 the county seat was then moved from Coloma to Placerville, where it remains today.
The region east of Placerville, known as Apple Hill, is increasingly becoming a center for quality wine production. Notable wineries in the region include Boeger, Lava Cap and Granite Springs. The region is "renown for making vibrantly flavorful, distinctly delicious wines, grown in the dramatic elevations of the Sierra Nevada".
Over the years many notable and influential people had shops in Placerville, mostly along the now historic Main Street.
· Historical persons: Henry Hooker - cattle baron, Edwin Markham - poet, John Studebaker - auto maker, Levi Strauss - clothing maker and Mark Hopkins - railroad financier.
· Modern notable people: Toby Hall - baseball player and Spider Sabich - ski racer from Kyburz is buried in Placerville.
The California State Convention 2009 offers many things for you to enjoy and a full program of Convention activities you all can do with your old Pearl Harbor comrades.
THURSDAY
You can visit and in late afternoon board a bus for $20 each round trip to attend the River Cats evening baseball game. All Pearl Harbor Survivors will be honored at the game and admission is free. "Good Hot Dogs available at the ball park".
FRIDAY
Spend the day at South Lake Tahoe. The bus will pick you up at the Fairgrounds in the morning and take you to Harvey's Casino and refund you $20 plus a free lunch ticket. You can take the lunch ticket to the top of the building restaurant across the street and get a full course meal. There is passage between the two buildings under the street (Hwy.50) so you won't have to go outside. The bus fare of $25 will be refunded @ Tahoe.
SATURDAY
The lunch after the Business mtg. for $10ea.is BBQ chicken with baked beans will be served in the veterans hall and open to all attending the convention. There will be no wives luncheon! The $30 ea. Tri-Tip Dinner with garlic mashed potatoes, will also be served in the Veterans hall @1800 hrs with the Buckboard Band playing.
The Raffle for the two $1,250 vacation packages @ Tahoe will be held following the Dinner. One of the packages is close to the State Line and the other about a block away where Pioneer Trail intersects with Hwy. 50. The 6 tickets for $5 you received in the mail give you two chances to win a package and you don't have to be present.
SUNDAY
The getaway breakfast for $5ea. @ the door is your last chance to visit. The convention committee and Sons & Daughters have made it possible so give SDPHS a thank you when you leave.

CA STATE CONVENTION
Hosted by
HANGTOWN CHAPTER 30
@VETERANS MEMORIAL HALL PLACERVILLE
FAIRGROUNDS
MAY 14th-17th, 2009
· WEDNESDAY = MAY 13th = EARLY BIRD ARRIVALS 1300 - 1800 REGISTRATION

· THURSDAY = MAY 14th = PHSA HONORED GUESTS @ FREE EVENING RIVERCATS BALL GAME ~ BUS TRIP COST $20 EACH X ___ = TOTAL $______

· FRIDAY = MAY 15TH = TAHOE BUS TRIP (SEE FLYER), CARD PLAYING, VISITING IN HOSPITALITY ROOM. BUS TRIP = $25 EA. X___= TOTAL $______

· SATURDAY = MAY 16TH
1000 HRS - 1200 HRS = BUSINESS MEETING
1200 HRS = BBQ CHICKEN LUNCH IN VETS HALL, $10 EA. X__= TOTAL$_____
1700 HRS = HAPPY HOUR
1800 HRS = DINNER IN VETS HALL. ~ TRI TIP = $30.00 EA. X___= TOTAL$_____

RAFFLE AFTER DINNER FOR TWO $1,250 TAHOE VACATION PACKAGES.
$5 FOR 6 TICKETS = TWO CHANCES. YOU DON'T HAVE TO BE PRESENT = $_____

· SUNDAY = MAY 17TH = GETAWAY BREAKFAST ~ PAY AT DOOR. $5.00

Contact Motels direct =
1. Gold Country Inn = PH. 530-622-3124 --------2. National 9 Inn = PH. 530-622-3884
$79 Single - $89 Double (Continental Breakfast)---- $49 - $65 (Continental Breakfast)
MENTION PEARL HARBOR SURVIVORS


NAME__________________________WIFE'S NAME_____________CHAPTER__
ADDRESS_________________________________________PHONE_________
HOW MANY? PHSA MEM___, WIFE----___, WIDOW___, GUEST___, SDPHS___, =
T0TAL____X $10.00 =REGISTRATION FEE =$ _______

GRAND TOTAL FEES $___________

SEND CHECK TO:
PHSA STATE CONVENTION 8217 FOX MEADOW PLACE CITRUS HEIGHTS CA 95610
PHONE (916) 725 5180


************************************
67TH NATIONAL REUNION
DEC. 5-8
FREDRICKBURG TEXAS
***************************
************
65TH NATIONAL REUNION IN HAWAII
John Finn ~ last living Pearl Harbor Attack Medal of Honor Recipient

With age and aching joints slowing the sailors, marines and airmen who lived through the attack on Pearl Harbor, the major national survivors group has decided this year�s gathering will be its last in Hawaii
Pictures ~ Jim Wilson/The New York Times
John Finn (center) last living Pearl Harbor Attack Medal of Honor Recipient
\
Mal Middlesworth, Pearl Harbor Survivors Association Natl. President, salutes the USS Russell DDG 59 as it passes in review honoring the Survivors at the December 7th ceremonies in Pearl Harbor.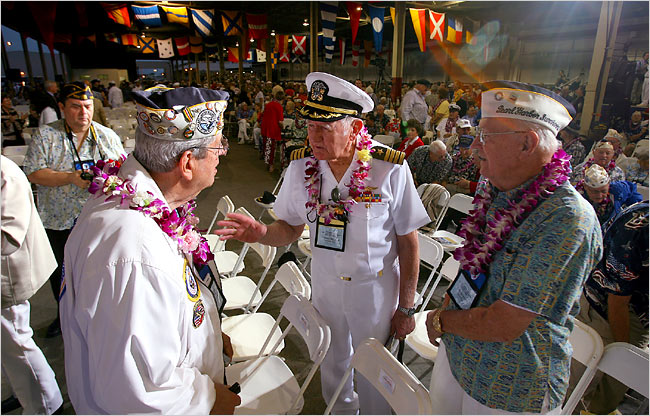 Gordon Jones standing on the left talking with fellow Survivors
Final Hawaii Reunion for Pearl Harbor Veterans
By JESSE McKINLEY New York Times, December 8, 2006
PEARL HARBOR, Hawaii, Dec. 7 — Since that terrible morning 65 years ago, the survivors of the attack on Pearl Harbor have been called heroes, V.I.P.'s of the greatest generation, and the first American witnesses to the last world war. But more and more, the members of this exclusive group are being called something else: endangered.
With age and aching joints slowing even the most hardy of old sailors, marines and airmen, the major national survivors group has decided this year's anniversary gathering will be its last in Hawaii.
"We're getting about as extinct as the dodo bird," said Mal Middlesworth, the president of the Pearl Harbor Survivors Association, which traditionally meets here every five years. "The way it's going, our next national convention here we could hold in a phone booth."
Mr. Middlesworth, 83, who watched the attack from the deck of the heavy cruiser San Francisco, said much of his membership of 4,600 survivors had simply become too old to travel great distances. "There's a lot of people in wheelchairs and in walkers," he said. "And we don't have any replacement troops."
But if they're going, they're going with a bang. Organizers said the crowd at Thursday's commemoration on the harbor, called "the Last Reunion," was one of the largest in years, with more than 3,000 spectators, double the number expected, some of whom camped out well before dawn to enter.
That number included about 400 survivors, decked out in naval hats, campaign ribbons and medals. Many survivors brought several generations of family. "A lot of the families are coming just to bring grandpa," Mr. Middlesworth said. "And they need everyone there to help them get around."
Stephen Yorden, 86, made the trip from suburban Philadelphia with his two daughters, his granddaughter and a grandson. Mr. Yorden, who was a shipfitter on the destroyer Dewey when the attack began and who only recently retired from a career in construction, said his reasons for coming this year were simple.
"I'm getting tired: the old bones don't jump no more," he said, explaining that he had been slowed by a bad back. "And I figured I may as well get rid of some money before I have to give it to Uncle Sam."
Academics and historians also crowded the island of Oahu this week, as part of a weeklong symposium tied to the anniversary of the early-morning sneak attack in which 2,338 service members and civilians died and 21 warships were sunk or destroyed. Topics and events included a discussion of the Japanese perspective on the attacks and a re-creation of a Dec. 6, 1941, jitterbug competition featuring the same dancers, Pat Thompson and Jack Evans, who won that night. This time around, their routine was shorter, slower, but undeniably sweeter.
Daniel A. Martinez, a historian with the National Park Service here in Honolulu, drew a comparison between this year's Pearl Harbor ceremony and a gathering of about 2,000 Civil War veterans in 1938 at Gettysburg, Pa., that was considered that group's last hurrah.
"This is literally an organization that's facing its own mortality," Mr. Martinez said. "That makes it not only a very difficult trip physically, but emotionally."
The tears in A. M. Geiger's eyes confirmed that. Mr. Geiger, 85, traveled here from Buford, S.C., with his daughter, Janice, who came from Tampa.
On the morning of the attacks, Mr. Geiger was enjoying a cup of coffee when a Japanese shell tore through the kitchen of the building where he was on Ford Island.
He came to this year's ceremony to donate an American flag he found that afternoon, and he welled up at the thought of never returning to Pearl Harbor.
"Don't talk about that," said Mr. Geiger, who walks with a cane and wears a pacemaker. "I don't have any friends left."
Many of the old sailors were still more salty than sad.
Mel Fisher, 84, a former engineer on the destroyer-tender Whitney who recalls being blown out of his bunk on the morning of the attacks, was here with four generations of his family.
"I'm trying to get away from them," Mr. Fisher said, smiling at his 18-year-old granddaughter, Kate.
Mr. Fisher said five members of his local chapter of Pearl Harbor survivors in Northern California had died in the last year. "We have a luncheon once a month," he said. "If I can get seven of them vertical, that's a good day. Restaurants don't want us to come anymore, because we don't drink anymore."
Still, he said he was looking forward to trying to track down some old crewmates, though he said it was not always easy.
"For some reason, they look different," Mr. Fisher said. "Their hair is goofy, and a lot of them limp."
The shrinking corps of Pearl Harbor survivors, which Mr. Middlesworth estimated at 6,000, mirrors an overall winnowing of World War II veterans. As of September, the Department of Veterans Affairs estimated that 3.2 million American World War II veterans were still alive. But by Pearl Harbor's 80th anniversary in 2021, the department estimates, the number of World War II veterans will have shrunk to 158,000.
Mr. Middlesworth said many veterans welcomed this anniversary as a last opportunity to show their families what they had endured that day. That included Mr. Middlesworth himself, who was an 18-year-old marine when he saw Japanese torpedo planes buzzing over the fantail of his ship.
"We didn't have any fuel or ammunition because we were in for service, and I didn't think my .45 would do any good, so I stood and watched," recalled Mr. Middlesworth, who now lives in Upland, Calif.
"But I saw the Oklahoma roll over, and I saw the Arizona blow up," he said, referring to two battleships destroyed that day. "I looked over, and the officer of the deck had tears running down his cheeks. But it was too much for my mind to understand."
His grandson recently asked him about the attacks, Mr. Middlesworth said. When he began to talk, his son sat down. "I said, 'What are you doing?' " Mr. Middlesworth recalled. "And he said, 'Dad, you've never told me anything about what you saw.' "
The survivors group plans to continue to hold national conventions every two years, but will keep the events on the mainland. That will not, of course, keep some veterans from coming to Hawaii for the memories and in honor of the men who did not survive.
"You never get over it: I've been crying," said Haile Jaekel, 82, who served on the heavy cruiser Salt Lake City and lost friends that day. "But I'm going to keep coming till I drop."
__________________________________________________
NATIONAL OFFICERS ELECTED for the 2007-08 TERM
PRESIDENT
Mal & JoJean Middlesworth
_______________________________________________________________________________
<
SECRETARY
James & Jeanne Evans
_________________________________________
TREASURER
Kenneth & Mary Ann Creese
_______________________________________
USS RUSSELL CREW MEMBERS HONOR SURVIVORS TO NEVADA POINT CEREMONIES
USS PEARL HARBOR ~ Honors USS NEVADA and other Pearl Harbor Survivors lined up along Nevada Point at Ceremonies, December 8, 2006.
___________________________________________
Charles Barr from California with twelve members of his family.
Miss Hawaii greeted Survivors @ the luncheon after the ceremonies in Pearl Harbor
Japanese Religious Peace Delegation
USS PEARL HARBOR Crewmembers @ Banquet
______________________________________________
2004 NATIONAL CONVENTION
ONTARIO CA. DECEMBER 3rd-8th.
For the first time in 30 years the Pearl Harbor Survivors Association held its National Convention in the State of California.
DECEMBER 7th MEMORIAL SERVICES
John Finn Medal of Honor -- Admiral Cox USS Ronald Reagan
CDR Harnden USS Pearl Harbor
Duward Swanson-Pres. 2005-6, Mal Middlesworth-VP 2005-6, Jim Evans-Secretary 2005-6
KEN CREESE-TREASURER 2005-6
************************
43rd Annual California State & 1st District Convention
Burbank, May 20 - 23, 2004
----------------------- ART HERRIFORD-Re-elected 1st DIST. DIR.
--------------------------------------------PHSA CHAPTER 14 SURVIVORS
****************************
California State Convention Oakland CA - May 15-17, 2003
Click on above photo for more Pictures
*************************
National Convention Houston TX 2002
CLICK ON ABOVE PHOTO FOR MORE PICTURES