FRANCIS GABRESKI
45TH FIGHTER SQUADRON
WHEELER FIELD
By Jake Jaekel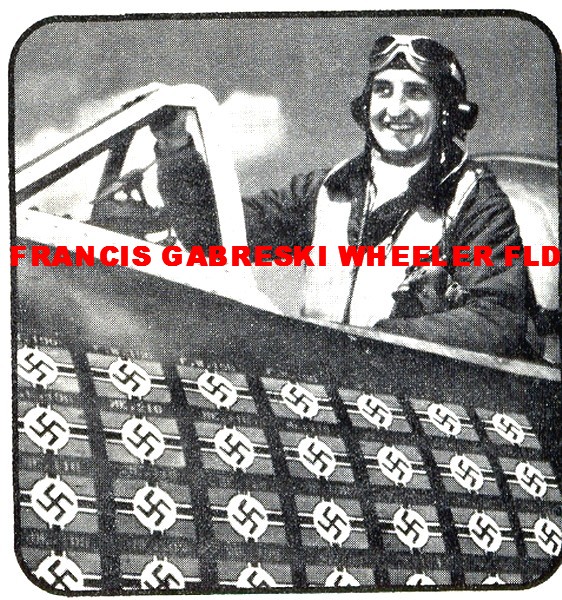 Francis Gabreski was a Fighter Pilot in the 45TH Fighter Squadron, 15TH Air Group at Wheeler Field, December 7, 1941. Most of their aircraft were damaged or destroyed by Japanese planes during the early stages of the attack on Pearl Harbor. He was unable to engage in any aerial combat with the Japanese.
After the Japanese attack on Pearl Harbor he remained in Hawaii until October 1942. Gabreski was then sent to the European Theater as a member of the 8th Air Force Fighter Command, serving as a Liasion Officer to the Polish Air Force. He flew over twenty combat missions with the Polish Wing in Supermarine V fighter aircraft.
In February 1943, Gabreski was assigned to the 61st Fighter Squadron as a flight leader and took command of the Squadron in June. Finally on August 24th he was credited with destroying a FW-190. His score continued to climb as he flew increased bomber support and strafing sorties. At the controls of a Thunderbolt fighter, Francis Gabreski downed 28 German airplanes to become the top ranked American Ace in the Europe during World War II.
Gabreski described the downing of his first airplane , a German Messerschmitt fighter. as frightful. He thought to himself "Oh my God somebody can do the same thing to me". Near the end of World War II he was shot down during a strafing mission, crash landed unhurt and spent several months as a prisoner of war in a German prison camp.
He went on to fight in the Korean conflict, flying F-86 Saber Jet fighters. Gabreski was credited with shooting down 6.5 MIG fighters. When Gabreski retired in 1967 he had flown more combat missions than any other American pilot.
But among his numerous honors he accrued for his combat exploits, Gabreski felt his 1978 admission to the National Aviation Hall of Fame and the renaming of Suffolk County, West Hampton, New York, airport for him in 1992 as among the most appreciated.
A former member of Long Island New York PHSA Chapter 8, Gabreski was a dedicated man who stressed loyalty, personal discipline and had a knack of speaking bluntly.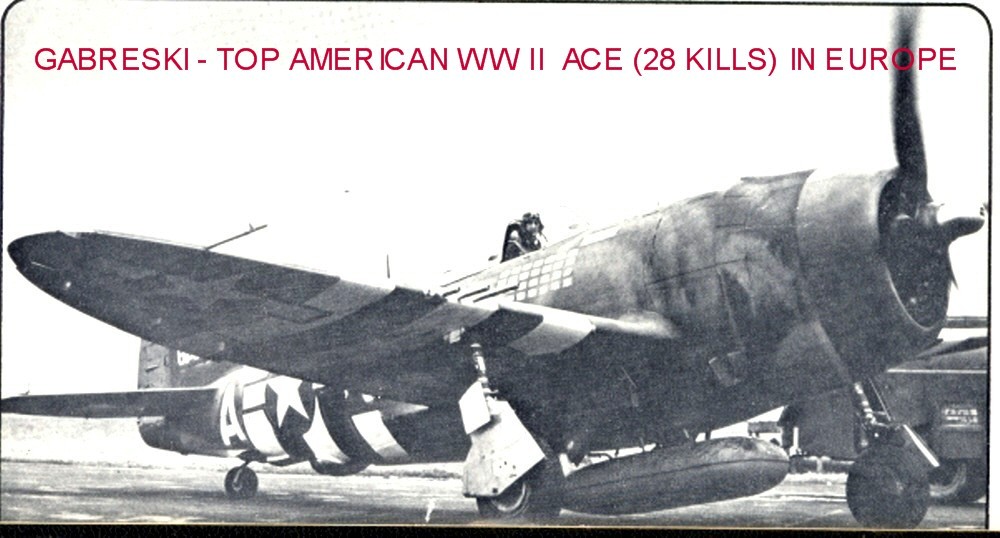 GABRESKI IN HIS P-47 THUNDERBOLT